Decorative Septic Vents
Looking to hide the unsightly septic vent or tubing in your yard? The Dirty Bird is the lawn decor you've always wanted. Offering air and odor filtration, The Dirty Bird is a one-of-a-kind product that is attractive, functional and environmentally safe.
The Dirty Bird Septic Vent is the only decorative vent that was designed, engineered, produced and tested in the USA to specifically be a septic vent with odor control. This do-it-yourself install product turns an eyesore into a focal point in the amount of time it takes to cut a PVC pipe.
Buy Now
"The 'Dirty Bird' was a perfect solution for my yard.It transformed an eyesore into a focal point for a new garden."
Leslie D
"Wanted to let you know that the wild doves really like your dirty bird bath! Picture below, thanks again for developing a great product!"
Anthony DiGirolamo
"Excellent product, easy to install and appears quite sturdy. Quick efficient ordering"
Deb
A Stylish Alternative to Hide Your Septic Vent
SEPTIC VENT FEATURES
Made in the USA
Bird bath meets Audubon Society specifications (check this out)
Filters that meet EPA septic venting regulations
Durable Polyethylene that won't chip or crack
UV stabilized and fade-resistant
Available in several colors
Limited Lifetime Guarantee
Use The Dirty Bird as a pedestal and place your potted plant, sundial, garden globe, or use the included bird bath on top.
Buy Now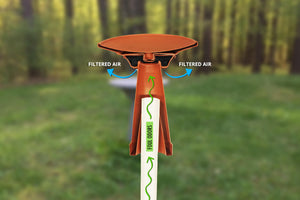 PRODUCT SPECIFICATIONS
Materials
100% recyclable materials (Low Density Polyethylene, which means safe for the environment!)
Limited Lifetime Warranty on cracking and chipping
All Stainless Steel Hardware
Filtration
Every standard unit comes with a filter already installed
AIRVAC unit comes with stainless steel screen
Dimensions
Height: 32 inches
Basin width: 23 inches
Footprint: 12.25 inches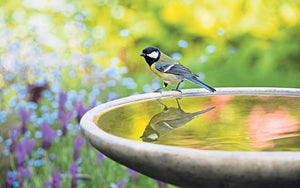 INSTALLING YOUR SEPTIC VENT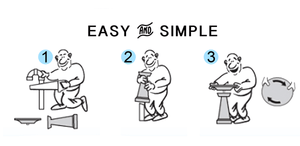 HOW TO INSTALL THE DIRTY BIRD